So your child is home from school on Memorial Day. They're probably excited to play, watch tv, eat snacks, or bust out the video games. And that's great in small doses! But Memorial Day is a special holiday preserved for the memory of fallen heroes taken by war. It wouldn't hurt to take the little ones aside for ten or twenty minutes and get them tuned into something creative in the spirit of this day. If your babies are bored stiff sitting at home or annoying you senseless, then this might just be a productive way to get them involved, and have fun doing it!
In Flanders Fields
In Flanders fields the poppies blow
Between the crosses, row on row,
That mark our place; and in the sky
The larks, still bravely singing, fly
Scarce heard amid the guns below.
We are the Dead. Short days ago
We lived, felt dawn, saw sunset glow,
Loved and were loved, and now we lie,
In Flanders fields.
Take up our quarrel with the foe:
To you from failing hands we throw
The torch; be yours to hold it high.
If ye break faith with us who die
We shall not sleep, though poppies grow
In Flanders fields.
~John McCrae
Inspired by John McCrae's poem, the poppy flower has become a symbol of remembrance for Memorial Day.
---
CRAFTS!
What you'll need: All of these crafts can be done with just regular paper, scissors, glue and markers if you are short on resources. But if you want to get extra creative, your art supply kit may also add in; Paint, Crayons, Colored Pencils, Craft Foam, Play Dough, Cookie Cutters, Coffee Filters, Felt Pieces, Tissue Paper, Cupcake liners, Cardboard Paper, Buttons, Straws, Boxes, Pipe Cleaners, Paper Clips, Leaves, Sticks, and Etc.
---
Want more different ideas? The link below can take you to all kinds of crafts using basic craft materials!
---
Sometimes simple is more fun. And sometimes we don't have that many craft supplies just laying around the house. Or maybe we don't have time to supervise our kids around scissors and glue! If you need something a little easier or safer, these other printable activities might be perfect for you!
Coloring Pages!
---
PUZZLES!
ACTIVITIES!
These might take a little more effort, and help from mom and dad. But if you need plans for fun things to do or yummy treats to make, these might pique your interest!
Patriotic Swirl Cupcakes
Yield 18 cupcakes Prep Time 15 minutes Cook Time 18 minutes Total Time 33 minutes
Our easy to make red white and blue Patriotic Swirl Cupcakes are perfect for a 4th of July party or Memorial Day barbecue and taste amazing.
Ingredients
Instructions
Make a batch of cupcakes.
Make two batches of our Best Buttercream Frosting recipe.
Split the batch of frosting into thirds. The first third we left white and we tinted the other two red and blue.
Using a Wilton 2D frosting tip, make two full circles of red frosting around the edge of the cupcake.
Next, use the Wilton 2D frosting tip with the white frosting. Apply two more circles of frosting but these should be a little smaller than the red frosting layer.
Finally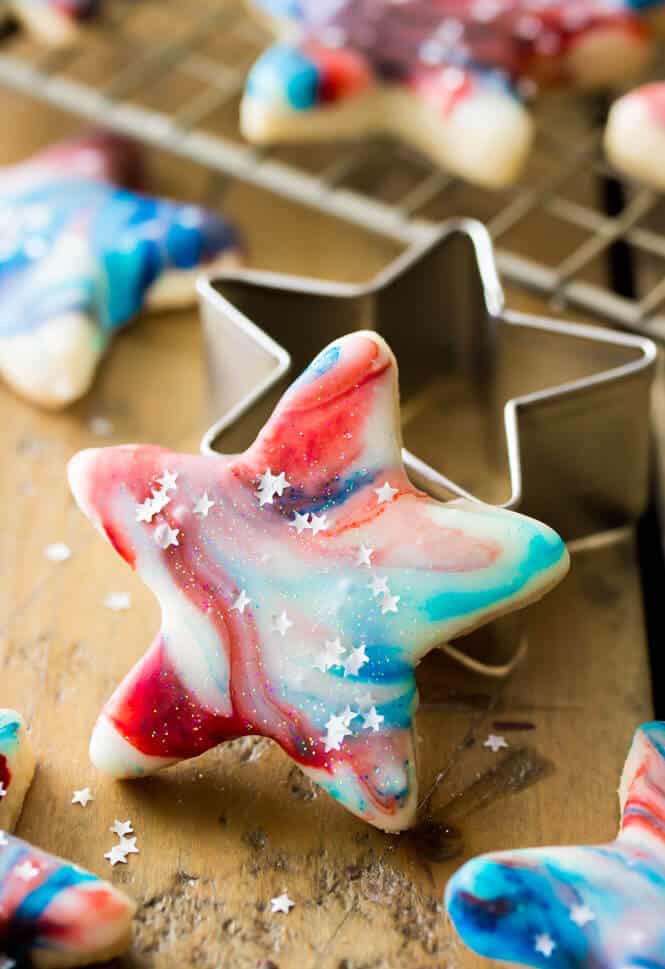 Star-Spangled Cookies
Red, white, and blue star-spangled cookies are perfect for the 4th of July!Please see just below the recipe for a list of recommended tools for this recipe with links to Amazon, including cookie cutters, gel food coloring, silver star sprinkles, and disco dust Course DessertCuisine American Prep Time 1 hourCook Time 10 minutesTotal Time 1 hour 10 minutes Servings 50 cookies (may vary depending on size of cookie cutter used) Calories 98kcal Author Sam Merritt
Ingredients
Marble Icing Glaze
3 cups powdered sugar sifted (415g)
3 Tablespoons light corn syrup
3-4 Tablespoons milk
½ teaspoon vanilla extract
¼ teaspoon almond (or other, preferred) extract optional
gel food coloring I used Americolor "red red" and "electric blue"
silver star sprinkles There's an Amazon link for these just below the recipe, though I was able to find them cheaper at my local cake shop!
luster dust/disco dust Optional, there is also an Amazon link for this below the recipe
Instructions
Cookies
Preheat oven to 350F.
In KitchenAid mixer or with electric hand-mixer beat your butter until well-creamed.
Add sugar to the mixing bowl and beat with the butter until well combined (about 30 seconds).
Stir in vanilla extract and salt, stirring until well-combined, and scrape down the sides of the bowl using a rubber spatula to ensure ingredients are well-incorporated.
Add egg yolk and beat until combined
With mixer on medium-low speed, gradually add flour until well-incorporated (you will definitely need to scrape down the sides and the bottom of the bowl several times for this, as the mixture is fairly dry and crumbs tend to settle at the bottom of the bowl).
Transfer dough to clean surface and use your hands to form it into a cohesive ball.
Flatten into a disk (about 1″ thick), cover with clear wrap, and chill for 15 minutes.
Once dough has chilled, transfer it to a clean, lightly floured surface and use a lightly floured rolling pin to roll out to about ¼" thickness.
Lightly flour your cookie cutters and cut out your shapes, transferring them to ungreased cookie sheet.
Once you have cut out all of the shapes that you can, be sure to re-combine the scraps and roll out and cut out again to get the maximum number of cookies from your dough.
Bake on 350F for 10-12 minutes (longer if you are using larger cookie cutter) and allow cookies to cool completely before dipping in chocolate.
Marble Icing Glaze
In a large bowl, combine sifted powdered sugar, 3 Tbsp milk, and light corn syrup. Whisk until smooth. If mixture is too dry, add additional milk, one teaspoon at a time until mixture can be stirred.
Stir in extracts.
Glaze should be thick, to test that it is the right consistency drop a few droplets on top of a test cookie. If the glaze remains stiff, it needs to be thinned. If it runs off the cookie, it is too thin and needs more powdered sugar. If it settles down smoothly, it is just right.
Divide glaze into four small bowls.
Working with one bowl at a time, use a toothpick (a different toothpick for each color) and dip it into the food coloring bottle and then into the glaze. You want a small dot of food coloring (see video).
Drag a toothpick through the food coloring and glaze until it is prettily swirled/marbled.
Holding your cookie at the base, dip the surface of each cookie into the glaze (take a look at your first cookie — are you satisfied with the pattern? Adjust whorls with additional food coloring as needed).
Once the first bowl runs out or the colors become too muddled together from dipping, move onto your next bowl of food coloring (you will probably need to stir first before adding your coloring, as the surface may have begun to harden).
Repeat steps 5-7 until all cookies have been dipped. Allow them to harden at least 30 minutes (may take longer) for glaze to set. Enjoy!
Keep uneaten cookies in an airtight container at room temperature.
Nutrition
Serving: 1cookie | Calories: 98kcal | Carbohydrates: 16g | Protein: 1g | Fat: 4g | Saturated Fat: 2g | Trans Fat: 1g | Cholesterol: 14mg | Sodium: 25mg | Potassium: 9mg | Fiber: 1g | Sugar: 11g | Vitamin A: 120IU | Calcium: 4mg | Iron: 1mg
(Star-Spangled Cookies https://sugarspunrun.com/star-spangled-cookies/ Find more great recipes at SugarSpunRun.com!)
---
Whatever you and your family do this Memorial Day, we hope you have a refreshing and blessed day off. The most important thing to remember is that we celebrate this day for the sake of all the brave people who suffered, so that the rest of us don't have to. We are immensely proud and thankful of all their service over the many years. Thank a veteran today, regardless of what their position was or for how long they served. Respect their stories or their silence. Say a prayer for all of those men and women who went to the city of Heaven far too early. May God bless each and every one of them for all time.